Kraft series 3-pack
Kraft Series is an annual line of everyday pocket notebooks, made with 100lb French Paper covers, 48 pages on 70lb smooth white, and a saddle stitch finish with white staples. 
What's different about Kraft Series?
The regular Dapper Notes you know and love are made with a double-cloth cover, contain an extra decorative endsheet, and are hand-sewn with a wax thread finish. Kraft series notebooks have the same smooth paper inside, and unlike their cloth-covered siblings are saddle stitched (stapled) over cover stock.
Nitro Edition
Each pack in the edition contains one of each: Wine Jellybean Green, and Hot Fudge. Available in either graph or blank.
Orders are shipped within two business days. If I'm away for any reason, you'll see an announcement on the top of the website noting as such.
Some items are made to order, which you'll see noted in the product description. 
Once shipped, most domestic orders take anywhere from 2 to 10 business days to arrive depending on the efficiency of your local postal service. International shipping delivery times may vary between 1 and 12 weeks.
Nitro specs
Design

Wine Jellybean Green, and Hot Fudge

Cover Material

100lb French Paper covers

Paper

48 pages on 70lb smooth white

Binding

White saddle stitch

Title Inspiration

Coffee

Created

December 2017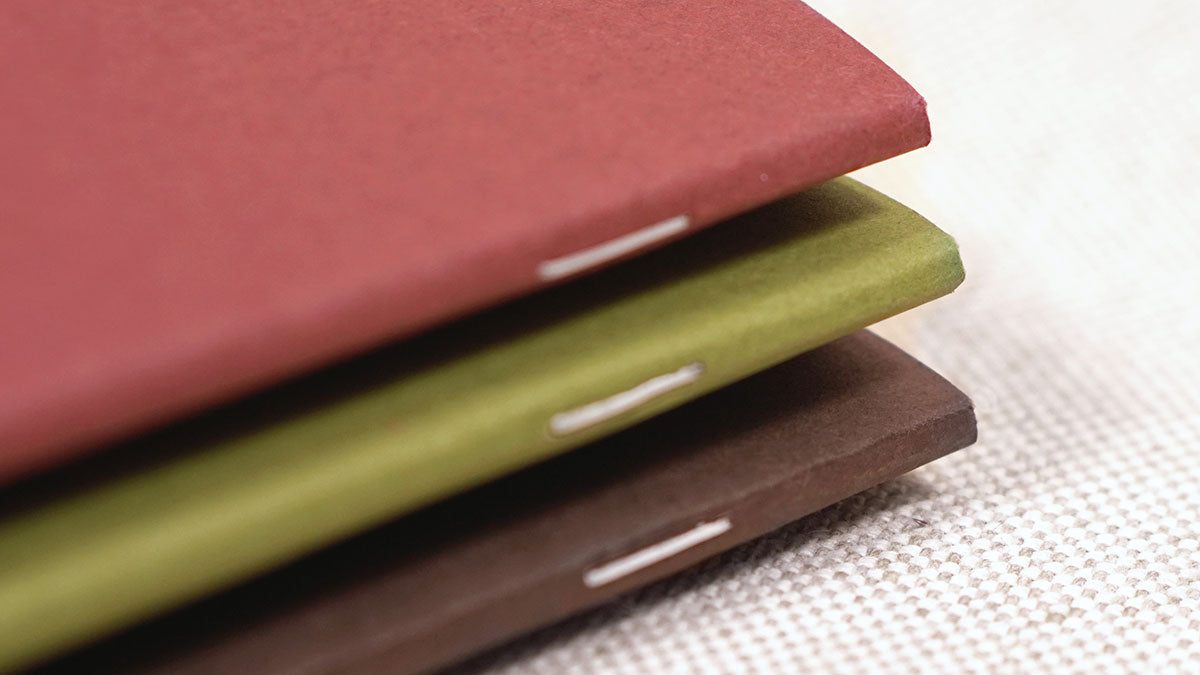 Nitro
Paper again
The annual non-fabric Dapper Notes covers return, all hand-made, saddle-stitched, and with a new design.
A lovely trio
Nitro is a perfect everyday companion for note taking, coffee journaling, and more importantly trying out what Dapper Notes paper is like. Enjoy!
Dapper notes are the antidote to the digital age. Every item is handcrafted, hand-sewn, and designed for maximum delight.

Teresa
Highest quality construction and materials, keen eye for detail, and delicious design, month after month.

Dana
Dapper Notes are the best quality pocket sized notebooks you can get. The textile cover and thread binding means the books will hold up through time. I love the thick paper as well; good for fountain pens.

Cindy
I am a lover of texture, both visually and physically, so the different book covers are perfect for me!

RoseAnn
Wow, beyond beautiful. They are very well made and sweet. Thrilled to have these gorgeous notes.

Brad
Beautifully made, exceptional craftsmanship, wonderful customer service!

Gia
I love this notebook. It's beautifully hand crafted, very sturdy, and makes a great conversation piece. 10/

Milo