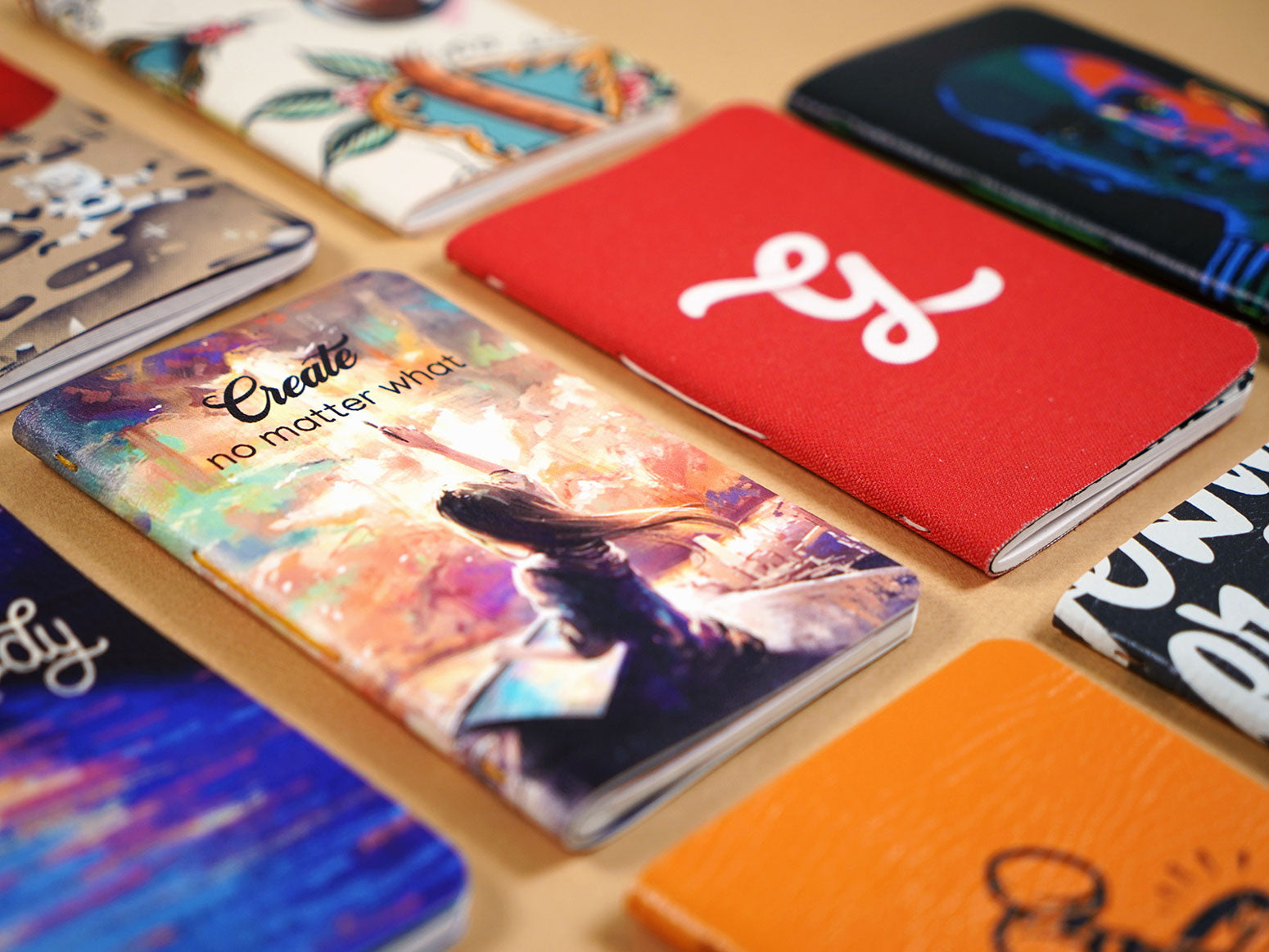 Want to create a custom notebook for your brand or event?
I can do that for you with low minimums and quick turnaround times. All Dapper Notes are made by one person: Enon Avital (that's me!). I'd love to create the perfect hand-made notebooks for you, and customize nearly every aspect of your special edition.
Previous custom notebooks
Some of the custom editions I've made include the following
The entire notebook design follows the cover's artwork. You can send me art you already have or create something new (the art can be a central element, or a repeating pattern).
Once we settle on a cover design, I'll suggest appropriate bookcloth, end sheets, and threads to match. After everything is picked, I order the materials I need, and get started putting everything together.
Pretty much everything.
You can create a custom cover design, which is then glued to bookcloth that's available in a variety of colors. Inside each notebook there's a decorative endsheet, which can be stock designs or completely your own. The notebooks are sewn with waxed thread, also available in a variety of colors to match your design.
Inside pages are available in graph, dot grid, lined, or blank. And last but not least, the packaging belly band is customizable to include your brand's information.
I create every single notebook on my own from start to finish.
My current capacity is roughly 150 notebooks per week. Keep in mind that I can only begin once all of the materials we chose have arrived, which can take up to two weeks. For example: If we're making 200 notebooks, the anticipated production turnaround time is 2–4 weeks. I will also let you know ahead of time of any scheduling conflicts, and will keep you updated on the timeline throughout the process. 
Yes, there's a minimum order of 30 notebooks for all custom designs.
The short answer: It depends.
The longer answer: Dapper Notes retail for $17 each. Your price will depend on the quantity, materials chosen, and how much customization is done. Minimum order quantity with a simple design starts at $430.
Send me a message, let's talk about what you'd like to make, and I'll give you a detailed quote right away.
Every notebook is wrapped with a 120lb cover stock belly-band that you can customize with whatever you'd like. The notebook can also be packaged inside a sealed, archival clear plastic wrapper. 
There are dozens of fabric options available, but I recommend the following four for custom editions:
Cotton twill is a classic fabric that looks great, and frays a little.
Linden has a smooth finish, is a little thinner, and has almost no fray.
Velour is extremely soft, is a bit thicker, and also has very little fray.
Leatherette is the thickest material, and doesn't fray at all.
Certainly! I love filming the process and photographing the finished Dapper Notes. I'll always do a full photoshoot in the typical Dapper Notes style. Shooting and editing a process video is a large effort and would incur additional costs, so let's talk about that if you're interested.
Yes! definitely. Always.
If you're an artist looking to collaborate on an edition that would be sold on dappernotes.com or have any other ideas you'd like to discuss, send me a message.
Dapper Notes notebooks are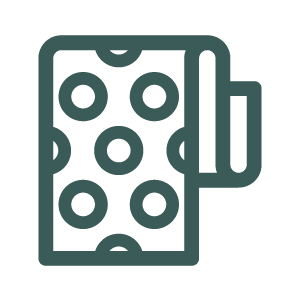 Fabric covered
Every notebook cover is made from two materials: a good looking fabric on the outside backed by book cloth inside.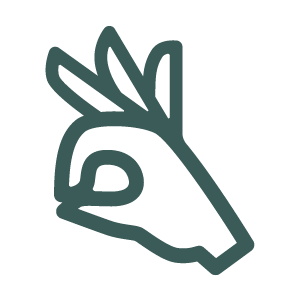 Made by hand
Straight from my studio in Fair Lawn, you're getting premium paper, wax coated linen thread stitching, glue and a dash of love.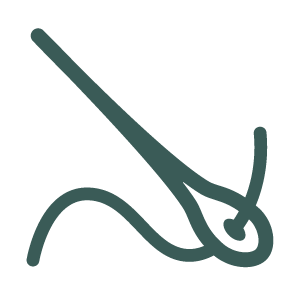 Thread bound
Wax-coated linen thread is stronger than staples, and these 3.5 x 5.5" durable notebooks will last a lifetime to hold and tell your story inside.
Watch
How Dapper notes are made
Every Dapper Notes notebook is made by hand, from scratch using a variety of materials including: a fabric cover that's bound to bookcloth, a decorative end-sheet, all sewn with waxed thread. Watch this video to see how they're made, step by step.
Ready to make your custom notebooks? Send me a message
I look forward to creating a special Dapper Notes with you